The Jayco Difference See What Makes A Better RV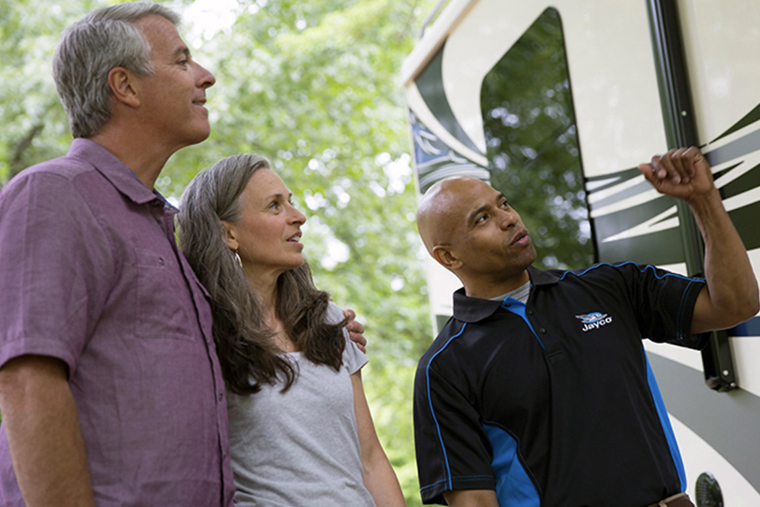 You can count on Jayco RVs and Jayco's focus on family fun to go the distance. So you can maximize every moment, no matter where the journey takes you.
1. Jayco's Mission

We will build superior quality and highly valued products. We will treat every situation with the highest level of integrity in a timely manner, and continually work to achieve acceptable returns on our investment.
2. Jayco Generations of Family Fun

For 50 years Jayco has been building America's Most Liveable RVs. Almost as long as Little Dealer Little Prices RV has been in business. What started as an idea for a new and improved lifter system in 1968, by the end of 1968, Lloyd J. Bontrager's fledgling company of 15 employees had sold 132 fold-down camping trailers. Today, Jayco's "family" of employees has grown to nearly 1,600 people, with more than 25,000 people joining our "extended family" of customers each year. Jayco still uses the patented lifter system designed by our founder, Lloyd Bontrager, and have continued his tradition of innovation and quality, with a focus on our customer's needs and desires.
3. Innovative Floor Plans

Such as our family-oriented layouts. Jayco is confident they have the right RV to fit your needs as they have one of the most diverse product lines on the market.
4. 2-year Limited Warranty No One Offers a Better Warranty

At Jayco, we build our RVs to handle every adventure, then we back our products with an industry-leading 2-year limited warranty. You won't find a better warranty in the business because the only strings we attach are those that deliver the ultimate in reliability. That's the Jayco difference. So go explore. We have the warranty that will follow you anywhere.
5. Name Brand Appliances

When you buy a Jayco, you get top-quality appliances and amenities. We don't cut corners when it comes to outfitting our models with the things you'll need day after day.
6. Magnum Truss Roof System

Our Magnum Truss and Magnum Truss XL6 roof systems withstand 4,500 pounds—50 percent more than other roofs; added weatherproofing measures bolster durability.
7. Climate Shield

Extend your camping season with the Jayco Climate Shield. It protects against extreme heat and extreme freezing—even in temperatures as high as 100 degrees or as low as zero degrees (Fahrenheit).
8. Strong Foundations

Many competitors modify or weld stock frames, which can weaken the integrity of your foundation. Jayco's custom-manufactured frames offer higher strength and durability.
9. Amish Craftsmanship

Our woodworking department employs meticulous Amish craftsmen,incorporating many of their timeless techniques to give our cabinets precision and durability.
10. National Buying Power

At Jayco we produce over 25,000 RV's a year. With that comes the purchasing power that allows us to use better construction materials, purchase reliable name brand appliances and offer more for your dollar.
11. J Steel Furniture

We build much of our own furniture. This allows us greater control of design, quality and replacement inventory.
12. Smooth Towing

A rough ride can damage your RV, your belongings and make long drives stressful. At Jayco we protect your investment with top-grade suspension solutions.
13. In House Sewing Department

Our skilled seamstresses give us flexibility in design and greater quality control of all upholstery, bedding and draperies.
14. Avoiding Airport Security Lines Go First Class and Your Feet Never Leave The Ground

No need to take off your shoes, your belt or your jewelry. You can travel faster and without the hassle in a Jayco. Plastic bins are not required.
15. 400 Plus U.S. National Park Locations

Wake up in Colorado's Rocky Mountains on a Monday and go to sleep in the Grand Canyon in Arizona that Friday.
16. 300 Committed Jayco Dealers throughout North America

Our dealer network gives you easy access to service, parts and assistance throughout North America.
17. Tailgating Before the Big Game

As if no longer standing in line for the portable toilet weren't enough reason, add the ability to entertain all of your friends and family without the weather dampening the mood-tailgating in a Jayco RV is the perfect way to travel to the big game.
18. Getting Far Enough Away from the City to Actually See The Stars

Show the kids that the Big Dipper is more than a large ice cream cone. Camping under the stars has never been more comfortable or inviting as it is in a Jayco RV.
19. Special Features on Jayco RV Models

See one of our experienced Little Dealer Little Prices RV Ranger sales professionals in our award winning Indoor Campground RV Showroom to find out more.
20. Going at Your Own Pace

Tortoise or hare, either speed is fine when you're taking the best parts of home with you in your own Jayco RV.
21. Innovative Floorplans

Innovative floorplans such as our family-oriented layouts and one of the most diverse product lines on the market.
22. Jayco Patented Lifter System

Each of our camping trailers uses the same patented, fully-enclosed lifter systems designed by Jayco founder Lloyd Bontrager. Even today, this system is one of the most reliable and simplest lifter systems on the market.
23. You're Always First

Jayco's design team continually looks for ways to make RV life easier for our owners. Little features, like a third entrance step, SaniCon Turbo waste evacuation system, front end caps designed for better turning radius, are among a variety of features designed with you in mind.
24. 330 Days of Sunshine in the South Each Year

As for the other 35 days, you can easily travel to a sunnier location with no hassle in a Jayco.
25. Jam On

Music lovers have never loved RVing more. Not only are camping trailers popular ways of traveling to music festivals, but today's RVs boast name brand soundbars, subwoofers and even marine-grade speakers on the outside of units. No more swapping out tapes or CDs either. Most Jaycos are equipped with Bluetooth®, allowing you to play your favorite music from beside the fire or while lounging in the living room's theater seats.
26. Feel The Power

Staying powered up, whether you're talking about a mobile device or your entire unit, is easier than ever. Loud, distracting generators are giving way to less disruptive generators that can churn out power while making remarkably little noise thanks to innovative MicroQuiet™ technology. Solar power has also established itself as a viable RV charging option for budget and eco-conscious travelers. You'll find several Jayco units prepped for solar charging; LED lights, found inside and out of many Jaycos, reduce the budget and footprint as well.
27. Seeing All 2,400 Miles of Route 66

Travel through history and visit the many quaint towns and landmarks along the way.
28. Rugged Toy Haulers

Extreme durability meets extreme versatility in Jayco toy haulers. With four models to choose from, including the all-new Talon, there's no reason to sacrifice comfort for garage space. At Jayco, we understand the meaning of adventure, and we know packing your toys is a part of that.
29. Higher Insulation Values

The small things matter when it comes to insulation. Jayco details such as fully-enclosed and heated underbellies, slide-out insulation, high-capacity furnaces and oversized heat ducts add up to big savings on many of Jayco's models-including the zero degree tested RVs.
30. Sleeping in Your Own Bed Each Night

Your bed . . . your pillow . . . nothing makes for a better night's sleep. Traveling in a Jayco means you can rest peacefully each and every night. We offer Simmons Beauty Rest 12" Luxury Coil & Foam Mattress' in select models.
31. More Standard Features

At Jayco we recognize that it is the little things that make a difference. That's why our models consistently offer more standard features-such as a high definition flat-screen TV, pillow-top mattress, electric awning, central A/C with adjustable vents or a surround sound home theater system.
32. Strong Foundations

Many competitors modify or weld stock frames, which can weaken the integrity of your foundation. Jayco's custom-manufactured frames offer higher strength and durability.
33. Media Center Entertainment Centers

Many of our models feature indoor and outdoor entertainment centers designed to make tailgating, watching the big game, latest movie or relaxing more enjoyable.
34. Golf Courses choose from more than 1,450 in Florida and 420 in Arizona

With more than 26,100 holes waiting to be played, you can travel to each of them with ease and grace in your own Jayco RV. The only worry you'll have is how to perfect your swing.
35. Protection from the Road

All of travel trailers and fifth wheels are designed to protect from road debris, moisture and grime. Many of our models feature fully-enclosed underbellies, galvanized steel wheel wells and enclosed slide-out wiring, offering you superior protection and peace of mind.
36. Eco Advantage Jayco's Commitment to Sustainability

Through smart sustainability efforts, we're creating better ways to build better RVs. And after 50 years in the RV industry, we know all about long-term commitment and the unwavering passion it requires.
37. Diversity

From family-friendly camping trailers to spacious luxurious fifth wheels, it's easy to find a Jayco that fits your lifestyle and budget.
38. Not having to leave your favorite pair of shoes behind

Jayco's storage areas, both interior and exterior, are generous and among the best, most well-thought-out storage systems in the industry. You'll never have to leave your golf clubs again.
39. 5-year Tent Warranty

Water-repellent, sectionalized DuraTek™ tents feature a mildew-resistant backer and tinted vinyl windows with cold-crack coverage to -20° F and interior UV protection. Our DuraTek water-repellent tent material is backed by a 5-year warranty, and features double stitching in high stress areas, sectionalized design and durable vinyl construction.
40. Name Brand Tires

Jayco consistently delivers quality in areas that others skimp on.
41. Seeing that sparkle in a child's eyes and really connecting

Watching as she or he discovers something for the first time such as the glow of a lightning bug or the thrill of catching a fish. Traveling together in a Jayco offers experiences that remind us all of what's important.
42. Superior Slideouts

With extra insulation, no exposed wiring and a low-maintenance electric cog system, Jayco has created a simple, reliable and durable slideout.
43. Peace of Mind

Whether it's our 2-year warranty, our superior construction methods, Jayco's high resale value or just the convenient amenities we put into each of our models, you'll spend less time thinking about your RV and more time enjoying life, travel and family.